Squirrel proof bird feeders are a Godsend! Feeding wild birds in your garden can be an extremely relaxing and rewarding hobby but if you don't have a squirrel proof bird feeder you're probably losing a lot of your wild bird food to squirrels, which can become annoying and frustrating.
The best bird foods are also very attractive to squirrels and, unlike birds which are usually quite happy to share the feed with other visitors, squirrels are likely to chase the birds away and eat all the food themselves. I know from personal experience how having squirrels doing this can turn you into something of an obsessive maniac, sitting watching the bird food for hours and rushing out like a mad person, arms flailing, to chase away the squirrels each time they appear!
What makes it even worse is the ingenuity of the squirrels as anyone who has ever tried to outwit them will know. They have a seemingly insatiable appetite and are blessed with the cunning and physical attributes to overcome any obstacles we put in their way, making it extremely difficult to stop them. They will also stop at nothing to get to the food, chewing and clawing at anything that gets in their way, probably destroying your feeder in the process.
That's where the squirrel proof bird feeders come in. These are specialist feeders designed to protect your feed from large birds and squirrels, allowing the small birds to feed in peace. And allowing you to relax in peace knowing no pesky rodents are stealing your feed!
Squirrel Proof Bird Feeders
There are a variety of squirrel proof bird feeders available. Some offer complete protection against squirrels using a variety of ingenious design techniques while others merely offer resistance against damage (as well as stealing all your bird feed, squirrels are also likely to destroy your feeder given the chance) but do still allow access to food.
Before buying a squirrel proof bird feeder there are a number of things you should take into consideration. Firstly, you should consider the bird species that are native to your area and make sure you buy a feeder that is designed for those species.
It is also a good idea to think about putting out multiple different types of feeders – one for each type of bird. In this way, each species will be able to feed without having to fight over the seed with the others and you can put the appropriate food in each feeder – for example, you could have a dedicated hummingbird feeder filled with nectar.
And don't forget to take into consideration where you live and where you are planning to locate your feeder. The feeder you buy must be robust enough to withstand the worst of the weather in your area and still keep the seed dry.
Finally, you can also consider adding a special squirrel feeder to try and stop them breaking into your bird feeders and stealing all the food.
Below I take a look at some of the best and most popular feeders available today.
---
Brome 1024 Squirrel Buster Plus Wild Bird Feeder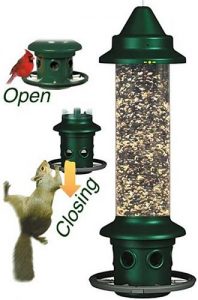 This best-selling squirrel proof bird feeder uses an ingenious mechanism whereby the weight of the squirrel closes the access to the seed. The birds access the seed through holes at the bottom but when a squirrel climbs on it, its weight forces the shroud down which covers the access holes. This prevents the squirrel from getting to the seed without harming the squirrel. The weight required to close the access is fully adjustable.The feeder is very robust and durable and has a huge capacity, holding 3 quarts of bird seed, which means you don't have to fill it as often. It's also very easy to clean as it's dishwasher-safe.
Click here for our in-depth review.
Get more information and buy now on Amazon >>>
---
Perky-Pet Copper Panorama Bird Feeder 312C
This beautifully stylish feeder has a copper finish. While it's not 100% squirrel proof, it does have a locking mechanism to ensure the lid stays on.It also has a mechanism where the seed stops dispensing once the tray is full, so preventing you losing all your seed onto the ground.
The feeder is easy to fill and clean and the design allows birds to feed from multiple angles.
Get more information and buy now on Amazon >>>
---
Brome 1015 Squirrel Buster Classic
This feeder has a wire grid with openings that align with the holes in the feeder allowing the birds to get at the seed. When a squirrel climbs on it, the squirrel's weight forces the grid down preventing access to the seed holes.This prevents the squirrels, and indeed large birds, from stealing the food without harming them in anyway.
The feeder holds 1.4 quarts of seed.
Note this feeder is not dishwasher-safe and should be hand-washed only.
Get more information and buy now on Amazon >>>
---
Droll Yankees YF Flipper 4-Port Hanging Bird Feeder
This hanging bird feeder has a squirrel triggered motor that spins the feeder when a squirrel lands on it, so quickly (but safely!) removing the squirrel.The motor is powered by a rechargeable nickel-cadmium battery and it comes with a battery charger that plugs into standard 120V wall outlets.
It has a 5 pound feed capacity meaning it doesn't need filling every day and it is well made and durable.
Get more information and buy now on Amazon >>>
---
Summary
Squirrel proof bird feeders are great for protecting your bird feed. They're also great for your piece of mind as you can relax safe in the knowledge that only your birds are getting the feed you put out.